"But rain is good luck on your wedding day!" Try telling that to the bride who spent a year planning the perfect outdoor ceremony and reception, with a backup plan that's just not quite as good as the original. If rain is in your wedding-day forecast, no need to add to the downpour with tears of your own. Rainy-day weddings definitely aren't full of bad luck when you have adorable rain boots, whimsical umbrellas, and a set of enchanting, romantic photos.
1. You know what they say about kissing in the rain…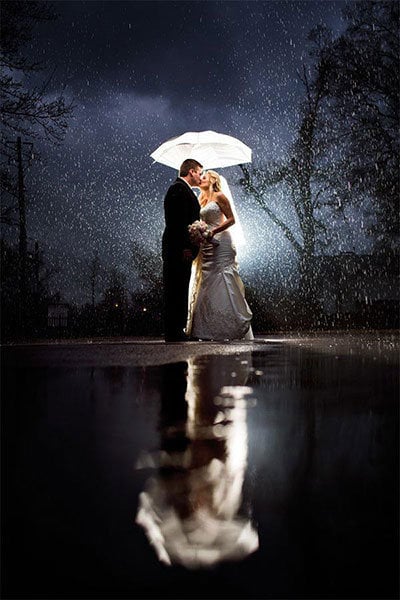 Photo Credit: Unplugged Photography on Bridal Guide via Lover.ly
See more inspiring rainy day wedding photos >>
2. Give your gals whimsical parasols — in your color palette, of course.
Photo Credit: Always Focused on You on Bella Umbrella via Lover.ly
Springtime color schemes we love >>
3. Be prepared for the chill in the air with a comfortable and stylish coat.
Photo Credit: Bragi Þór Jósefsson on Inspired By This via Lover.ly
Chilly winter wedding inspiration >>
4. Don't forget to keep your guests out of the rain — set out umbrellas, and encourage sharing.
Photo Credit: Nerida McMurray Photography on Polka Dot Bride via Lover.ly
Ways to give thanks to your guests >>
5. End-of-summer nuptials should always have a rainy-day plan, especially one with coral umbrellas and matching flowers.
Photo Credit: Engaged & Inspired via Lover.ly
Summer weddings by the water >>
6. We love these pretty polka dot rain boots:
Photo Credit: Wedding Chicks via Lover.ly
Pretty and poised bridal looks >>
7. What's hiding under your gown?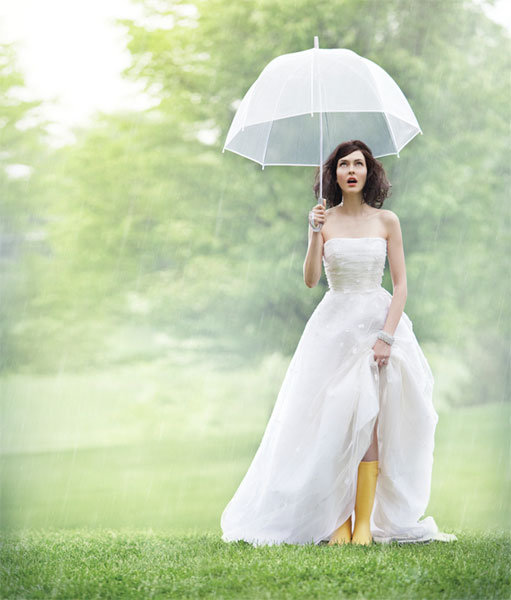 Photo Credit: Engaged & Inspired via Lover.ly
More ideas for the perfect wedding day shoes >>
8. Stay in the "clear" with a chic umbrella.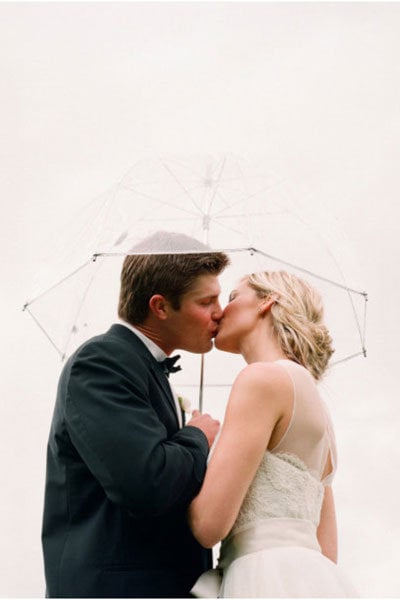 Photo Credit: Elizabeth Messina on Heart Love Weddings via Lover.ly
The perfect chic combo: silver and white >>
9. Have fun with your bridesmaids in an unexpected downpour.
Photo Credit: Our Labor of Love on Inspired By This via Lover.ly
Bridal party photo inspiration >>
10. And remember — at the end of the storm, there's always a rainbow.
Resource: https://www.bridalguide.com/blogs/bridal-buzz/rainy-day-wedding-ideas